Hatsune Miku: Project DIVA Mega Mix latest trailer
Featuring the newly included songs and more.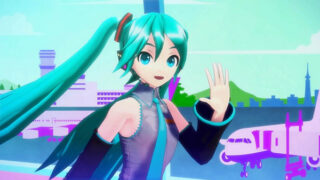 Sega has released the latest trailer for Hatsune Miku: Project DIVA Mega Mix.
The trailer introduces various elements of the rhythm game, including a spotlight on its 10 newly included songs:
"Catch the Wave" by kz (livetune)
"Alien Alien" by Nayutan Seijin
"39 Music!" by Mikito-P
"Hibana" by DECO*27
"Teo" Omori and Sakurai
"Roki" by Mikito-P
"Jigsaw Puzzle" by Mafumafu
"Dreamin' Chuchu" by emon (Tes.)
"Ohedo Julia-Night" by Mitchie M
"Jitter Bug" by Nanashi Hachiya
The trailer also highlights the title's updated graphics, 300-plus modules (costumes), Arcade, Mix, and Practice Modes, "Extreme" difficulty, T-Shirt Edit feature, and music video playlist.
Hatsune Miku: Project DIVA Mega Mix is due out for Switch on February 13, 2020 in Japan and in 2020 in the Americas and Europe.
Watch the trailer below.