DESIRE remaster ver. coming to Switch on December 27 in Japan
Available at a special discount price until February 1, 2020.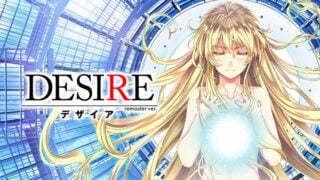 DESIRE remaster ver., which first launched for PS Vita and PC in April 2017 in Japan, is coming to Switch via the Nintendo eShop on December 27 for a special price of 980 yen, publisher Red Flag Ship announced. Starting February 1, 2020, the price will change to 1,980 yen. It will only support Japanese.
Here is an overview of the game, via the Nintendo eShop:
"Desire" is an isolated research facility on a remote island in the southern sea. The research being done there is shrouded in mystery, where no one on the outside knew what was going on at the facility. What is the truth behind Desire?

As the player, you will control the two protagonists, Albert and Makoto, and uncover the mysteries of the story one after the other. As newspaper reporter Albert, you will investigate the mysterious research facility Desire from an outsider's perspective, while as the Desire engineer Makoto, you will zero in on the mysterious entity from the inside. Through each protagonist's different perspective, you can gain an in-depth understanding of the drama that occurs and get closer to the truth.