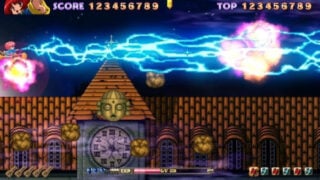 Beep has delayed Cotton Reboot! from its previously announced spring 2020 release window in Japan to early summer 2020, the company announced at the "ESP Ra.De. Christmas Party: M2 ShotTriggers Do-Kanshasai II" event in Akihabara today. It will be available for PlayStation 4, Switch, and PC via Steam.
The company also announced that it will release a pre-order-exclusive physical edition of Cotton Reboot! with bonuses like "the greatest teacup of all-time."
The following additional information was also shared:
"Arrange Mode" will feature enhanced graphics and significantly more character animations compared to "X68000 Mode." New colors have been added to the "Crystal System," and shots have been changed so that shooting a crystal creates a more powerful shot.
The following composers are working on the game:

Stage 02 – Hiroyuki Kawada (formerly of Bandai Namco; Valkyrie no Densetsu, Yokai Dochuki)
Stage 03 – Tetsurou Satou (currently at Success; Psyvariar, Psyvariar 2)
Stage 05 – Shinji Hosoe (CEO of SuperSweep; Dragon Spirit, Ridge Racer)
Stage 06 – Koichi Namiki (formerly of S.S.T. Band; Super Hang-On, Galaxy Force)
Stage 07 – Hisayoshi Ogura (formerly of Zuntata; Arkanoid, Darius series)
Opening + Ending – Kimitaka Matsumae (formerly of S.S.T. Band; Kill Me Baby, Oshiri Kajiri Mushi)
Read more about the game here.
Thanks, @ucchii16b (2, 3).