11 bit studios to publish new projects by Moonlighter and Seven: The Days Long Gone studios
Project Foxhole and Project Vitriol.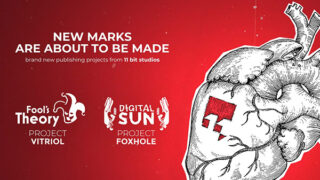 11 bit studios has signed new projects from Moonlighter developer Digital Sun and Seven: The Days Long Gone developer Fool's Theory, respectively code-named "Project Foxhole" and "Project Vitriol," the publisher announced.
Both projects, which are in various stages of development, are bigger in scope than anything 11 bit studios has published in the past, according to the company. Thanks to the success of its previous projects, 11 bit studios has been able to increase its investment in upcoming projects "to the tune of over €1 million per project.
Here is what we know about each project, via 11 bit studios:
Project Foxhole (Digital Sun)

You might say 11 bit studios is "over the Moon(lighter)" to be teaming up once more with the team at Digital Sun Games. There's nothing to divulge just yet, but rest assured that the hard-working Spanish developer is putting the same care and attention into their new project (code-name "Foxhole") as they did with their critically acclaimed indie hit, Moonlighter, but this time it's a totally new IP.

"We badly wanted to work with these guys again," said Digital Sun CEO Javier Gimenez. "As a team, we feel 11 bit did a great job with Moonlighter and we both want to do even better things together. It's really as simple as that."

Project Vitriol (Fool's Theory)

11 bit studios is beyond thrilled to be teaming up with Poland-based Fool's Theory for their latest project, code-named "Vitriol." The studio behind the artfully created stealth title, Seven: The Days Long Gone, is developing a game best described as a meaningful RPG.

"We are truly happy to align with 11 bit studios," said Fool's Theory CEO Jakub Rokosz. "They're known for their ability to find the unique spirit in a game and I believe our upcoming title fits impeccably with the type of projects they like to work on."
Watch a teaser video below.