Ys IX: Monstrum Nox version 1.05 update launches November 29 in Japan, adds 'Lunatic' difficulty
Full patch notes released.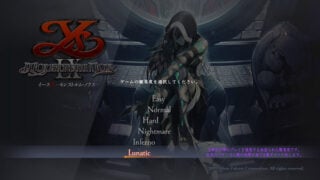 Falcom will release the version 1.05 update for Ys IX: Monstrum Nox in Japan on November 29, the developer announced.
Here are the patch notes, via the official website:
Additions and Changes

Added "Lunatic" difficulty.
Adjusted the retry respawn point in the "Prisoner" chapter dungeon.
Added the ability to skip the Prisoner Dungeon on second playthrough.
Adjusted the effect of the "Gale Shoes" to be easier to understand.
Extended the effect time of "Shadow Dive" and added an HP absorption effect.
Adjusted player character performance.
Increased the angle at which you can look up when controlling the camera.

Bug Fixes

Improved frame rate.
Improved operational stability.
Fixed a bug that caused the game to crash or freeze in certain situations.
Corrected typos and omissions.
Various other bug fixes.
Ys IX: Monstrum Nox is availble now for PlayStation 4 in Japan. A western release has yet to be announced.