New Guilty Gear adds Chipp Zanuff, Potemkin; first gameplay
Over 30 minutes of footage.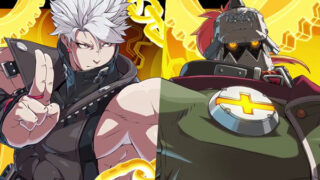 Arc System Works debuted the fifth official trailer and live gameplay for New Guilty Gear (title tentative) during its latest Arc-Nama live stream, which confirms Chipp Zanuff and Potemkin as playable characters.
The company also confirmed that it will host a PlayStation 4 closed online beta test for New Guilty Gear around spring 2020.
New Guilty Gear is due out for PlayStation 4 in 2020. It will be playable at ArcRevo World Tour Final 2019 on November 16 and 17 at the UC Irvine Student Center in Irvine, California.
Watch the footage below. View a set of official trailer captures at the gallery.
Chip Zanuff and Potemkin Trailer
Gameplay
14:16 – Gameplay Start (controls, character selection)
16:50 to 41:37 – Sol Badguy vs. Ky Kiske
42:20 to 45:34 – May vs. Axl Low
46:43 to 51:25 – Potemkin vs. Chipp Zanuff
57:36 to 1:03:15 – Axl Low vs. Sol Badguy
1:04:55 to 1:08:35 – Chipp Zanuff vs. Potemkin
1:09:13 to 1:15:05 – Sol Badguy vs. Ky Kiske
1:15:45 to 1:19:44 – May vs. Axl Low
Here are a few screenshots of the controls and character selection screens: