M2-developed shoot 'em up / visual novel Feveron Gakuen resurfaces as Gakuen, confirmed for PS4
New details from Dengeki PlayStation.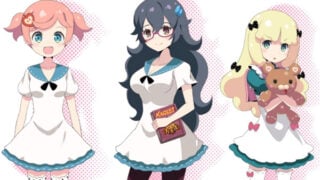 The latest issue of Dengeki PlayStation reveals Gakuen, a tentatively titled shoot 'em up and visual novel hybrid for PlayStation 4 developed by M2. A release date was not announced.
Gakuen was first announced in April 2017 as Feveron Gakuen. It is produced by Doki Doki Majo Shinpan! producer Yoshiyasu Matsushita.
Here are the latest details from the magazine:
Story

The story is set in a world where shoot 'em up games have been proven to enhance human abilities. National policy promotes the introduction of shoot 'em up games in all training methods, including academics and club activities. On the other hand, the concept of "enjoying" playing shoot 'em up games has all but been lost….

Characters

Ai Aino (she owns a Fami_m)
Himika Mimigawa
Siebold Shion
Tomo Kajino
Nyantarou

Systems

Your score and remaining lives play an important role in visual novel parts, and are both displayed on the screen.
You can compete for a high scores in shoot 'em up games with other clubs.
"Bloomer Mode" is a mysterious mode with sexy scenes where you can catch a glimpse of the white cloth of bloomers peeking out.
Thanks, Ryokutya2089.