Granblue Fantasy: Versus 'Auguste Isles' stage gameplay
Jin, Elmott, Lunalu, and more featured in the background.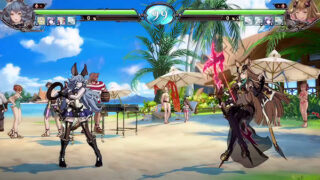 The Granblue Fantasy: Versus official Twitter account has posted a short gameplay video of the game's "Auguste Isles" stage.
When moving to the final round, background character Jin will reel in a Bonito, the pride fish of Auguste. Elmott and Lunalu can also be seen in the background, and Lunalu's reaction changes when the opponent is a certain male character.
Granblue Fantasy: Versus is due out for PlayStation 4 on February 6, 2020 in Japan, and in Q1 2020 in North America and Europe.
Watch the footage below.