Collar x Malice for Switch launches March 12, 2020 in Japan
Teaser website opened.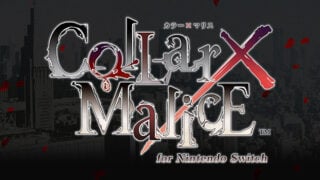 Collar x Malice for Nintendo Switch will launch on March 12, 2020 in Japan for 7,700 yen, publisher Idea Factory International announced.
A 9,900 yen limited edition will also be available, which includes a compilation novel of newly written short stories and acrylic stand of the package illustration by Mai Hanamura.
Collar x Malice first launched for PS Vita in August 2016 in Japan, followed by iOS and Android in May 2016. The PS Vita version was released in English in July 2017. The Switch version is also due out in English sometime in 2020.
Visit the teaser website here. The full website will open on November 29.
Here is an overview of the game, via the official English website for the PS Vita version:
About

Society crumbles in the wake of chaos.

A dangerous shadow organization launches a campaign of fear and violence in the city of Shinjuku, pushing society to the brink of chaos. As a young police officer tasked with restoring order, you become the target of an attack, and have a poisonous collar attached to your neck. With the situation spiraling out of control and time running out, five mysterious strangers appear to aid you in your quest for the truth. Who can you trust? Will you be able to save yourself and the soul of Shinjuku from the clutches of oblivion? In a city bound by malice, you are the only hope for salvation!

Key Features

Many Paths to the Truth – Elements of choice and trust weave together to form a branching narrative leading to multiple unique endings.
Stalked by Death – Put your detective skills to the test! The mysterious and deadly collar attached to your neck holds the key to solving a myriad of sinister secrets.
Mind Bending Narrative – Offering intriguing characters, brooding visuals and a gripping story full of mystery guaranteed to keep you coming back for more.