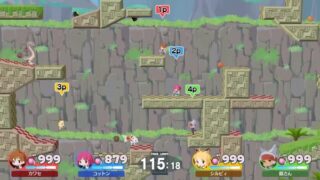 Publisher Success and developer Studio Saizensen have released the Umihara Kawase BaZooKa!! announcement trailer first shown at Tokyo Game Show 2019.
As previously announced, Umihara Kawase BaZooKa!! is a "rubbering battle action" game with support for up to four players in online multiplayer. There is also a stage clear-style cooperative element. It will feature original playable characters in addition to Success and Studio Saizensen characters from games like Umihara Kawase Fresh!, Sayonara Umihara Kawase, Doki Doki Poyacchio, and Cotton.
Umihara Kawase BaZooKa!! is due out for PlayStation 4, Switch, and PC via Steam in summer 2020. It will support Japanese, English, and Chinese language options.
Watch the trailer below.