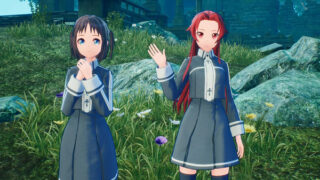 Bandai Namco will release a free update for Sword Art Online: Fatal Bullet this winter that adds costumes and avatar parts that lets players transform their avatar into Ronye Arabel and Tiese Schtrinen from Sword Art Online: Alicization, the company announced.
It should be emphasized that the update will not add Ronye and Tiese as playable characters—it will only add the materials necessary to replicate the appearance of each character.
Sword Art Online: Fatal Bullet is available now for PlayStation 4, Xbox One, Switch, and PC.
Watch a video of the costumes and avatar parts in action below, via @SAO_GameInfo.