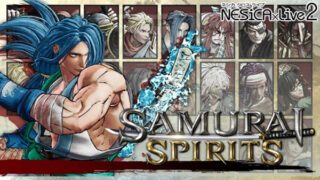 The NESiCAxlive2 app for the arcade version of Samurai Shodown has leaked the reveal of Sogetsu Kazama as a downloadable content character for the game.
The display character for the Samurai Shodown login screen in the NESiCAxlive2 app changes each time it is accessed. After several attempts, Twitter user @mayotaru12 managed to get Sogetsu Kazama to appear.
Samurai Shodown producer Yasuyuki Oda retweeted the discovery.
A second season of downloadable content characters for Samurai Shodown has already been announced for release in 2020, but so far Mina Majikina is the only confirmed character of the four that are planned.
Samurai Shodown is available now for PlayStation 4 and Xbox One worldwide. A Switch version is due out on December 12 in Japan. A PC version is also planned for release.