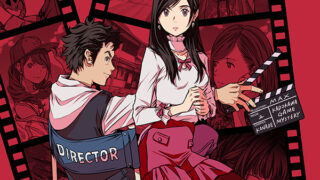 Kadokawa Games has announced Root Film, the next entry in its mystery adventure series for PlayStation 4 and Switch. It will launch this spring in Japan for 6,800 yen.
Here are the details:
■ About Root Film

In Root Film, the voice actor idol unit i☆Ris sings the theme song and play the roles of the main characters, while ladies' man voice actor Wataru Komada plays the role of the male protagonist. Additionally, the game is produced by Yoshimi Yasuda, who launched the Kadokawa Games mystery adventure series; written and directed by Hifumi Kouno, who has a reputation for working on adventure games; and features character design by Taro Mino, who also worked on the previous game Root Letter. Look forward to a new mystery title set in Shimane told by two protagonists, Rintarou Yagumo and Riho.

■ Story: Murderous Intent Hidden in 29.97 Frames

Spirited young filmmaker Rintarou Yagumo is involved in a new TV project—a mystery drama production set in Shimane that also served as tourism promotion for the prefecture. It has been 10 years since the original pilot was shot, and while the project was discontinued for unknown reasons, plans for a revival seems to be in place. One of the characteristics of this project is that it is a competition between three filmmakers, and each filmmaker shoots using a different actress as the protagonist. Yagumo is excited to learn that the other two filmmakers are famous directors. Before long, Yagumo and the staff members head off to go pre-location scouting, but a murder occurs at their destination…

■ Characters

Rintarou Yagumo (voiced by Wataru Komada)

An up-and-coming young filmmaker.

Rintarou Yagumo is a poor filmmaker with a small, personal office. While he manages to make a living by occasionally making small promotional videos and sham psychic DVDs, he is not satisfied with his current situation and is always trying to improve himself. He recently won awards at the "6-Minute Film Festival," "Asia Movie Competition," and so on, and is garnering attention as an up-and-coming filmmaker.

Riho (voiced by Himika Akaneya)

The other protagonist.

The other protagonist, who is cheerful and often laughing. She was scouted in high school and transferred to another high school in Tokyo. She studied acting alongside her school studies and made her debut at 17 years-old. While it was a sober debut due to the fact that she signed with a small office, she is gradually gaining value within the industry for her talent as an actor.

Aine Magari (voiced by Yuu Serizawa)

The caring assistant.

A foul-mouthed assistant who works for Yagumo Pictures. She is extremely skilled in the use of editing software and equipment. While she has a bad attitude and the air of a former delinquent, she is a good girl at heart. She takes notice of the smaller details and often looks after Yagumo.

Hitoha Amakata (voiced by Miyu Kubota)

A small office idol.

An idol signed with a small office. She is one of the three actors chosen as the leads for the Shimane mystery drama project. Yagumo chooses her as a partner and together they travel around Shimane's various locations.

Kyouichi Kanade (voiced by Azuki Shibuya)

The super beautiful cameraman.

A cameraman who often hangs out with Yagumo. While he may still be learning, he has courage and cameraman will-power, and since cameramen tend to ask for a lot of money, he is a saving grace for the poor Yagumo. He is a quiet and takes pride in his work. He always comes off as somewhat sleepy.

Tomie Ao (voiced by Yuuki Wakai)

Riho's friend.

Riho's friend from high shcool and a freshman at Shimane University. She is studying the work of Yakumo Koizumi. She moved to Shimane during high school. She has a deep love for her father, and can sometimes be strongly opinionated. She is cute, but does not have much of a fashion sense.

Ayane Kotoshiro (voiced by Saki Yamakita)

A friendly and strong-willed girl.

A girl from the esteemed Kotoshiro family of Shimane. She is simple-minded and friendly, but can also be strong-willed and selfish. She is dating Kazuya Makita, who works for her, and even thinks she wants to get married.

■ Game System

One of the defining systems of Root Film is "Synesthesia Mode." During conversation, words that have been singled out as "words that should not be forgotten" in your subconscious will appear on screen. The keywords you acquire can be used as part of your hand in "Max Mode."

Max Mode is a debate between the protagonist and other characters in the game, which occurs in the resolution chapters you switch over to as you progress through the game. While this mode is carried over from root Letter, it has the appearance of a fighting game and the system has been completed renewed.

Another characteristic of Root Film is the stylish user interface and text design themed around film work under the supervision of Hifumi Kouno.

■ First-Print Purchase Bonus DVD: "i☆Ris x Root Film Treasured Footage Collection"

First-print copies of Root Film will include a "i☆Ris x Root Film Treasured Footage Collection," a bonus DVD of the i☆Ris concert at Kadokawa Games Grand Festival 2019 and a behind-the-scenes look at the studio recording of the Root Film theme song.

■ Root Film Theme Song: "Utakata no Hikari"

i☆Ris, who play the roles of the main characters in Root Film, are also the singers of the game's original theme song. The theme song "Utakata no Hikari," which was first unveiled at Kadokawa Games Grand Festival 2019, is a mature ballad with an air of suspense. Please look forward to a mature i☆Ris that is not often seen.

■ Root Film Premiere Event

On March 27, 2020, a Root Film Premiere Event will be held in Kaguraza, Tokyo ahead of the game's spring 2020 release. Consumers who pre-order Root Film will be invited to attend by lottery. Both Yuu Serizawa and Miyu Kubota will appear.

■ Specifications

Title: Root Film
Platforms: PlayStation 4, Switch
Genre: Mystery Adventure
Release Date: Spring 2020 (Japan)
Price: 6,800 yen (physical / digital)
First-Print Bonus: "i☆Ris x Root Film Treasured Footage Collection"
Publisher: Kadokawa Games
Copyright: © 2019 to 2020 Kadokawa Games
Publisher: Kadokawa Games
Links: Official Website
Synopsis: Yagumo and Riho are the two protagonists. As you progress through each of their stories and unravel records of the past, you will witness the truth… Rot Film is a mystery title developed with realistic and beautiful backgrounds from data that was carefully gathered of Shimane Prefecture, which is where the story is set. Enjoy the deep story written by Hifumi Kouno, which points to the catharsis of art and madness in the darkness of today's internet society.
Watch the announcement trailer below. View the first screenshots at the gallery.