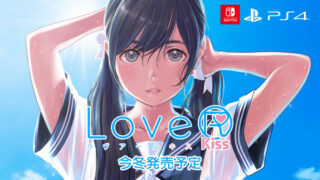 Kadokawa Games has announced love simulation game LoveR Kiss for PlayStation 4 and Switch. It will launch this winter in Japan.
Here are the details:
■ About LoveR Kiss

LoveR Kiss is an upgraded version of the March 2019-released PlayStation 4 title LoveR. It includes a scenario for teacher Himari Saiki that was not featured in the original game, as well as new Photo Session elements. Additionally, in the Switch version you can experience Photo Sessions as if you were shooting with a real camera by tilting the hardware.

LoveR Kiss is the latest original love simulation game produced and written by Ichiro Sugiyama, who has been making hit after hit in the love simulation genre, in collaboration with Taro Mino, who has created many hits of his own spanning various media such as games, character design, illustration, and comics.

■ Theme: Love and Photography

The "R" in LoveR stands for "Romance" and "Record." You can take photographs of your memories while deepening your love with the girls.

–Key visual illustrated by Taro Mino and featuring main heroine Riria Takamura.

■ Added the Teacher Himari Saiki as a Romantic Interest

In addition to the charming six girls illustrated by Taro Mino, the teacher Himari Saiki has been added as a romantic interest. Experience a love themed after a "love experiment" with an older woman who looks good with glasses.

Himari Saiki (voiced by Sakura Tange)

The serious and cute chemistry teacher.

■ The Six Girls

From left to right:

Yumina (voiced by Yumiri Hanamori) – "Worried because she loves her older brother too much."
Nanatsu Higadera (voiced by Kanae Itou) – "The classmate who always goes all-out and loves to swim."
Riria Takamura (voiced by Reina Kondou) – "The heroine of the rhythmic gymnastics club is the chief director's granddaughter."
Kasumi Crysta Ikuno (voiced by Manaka Iwami) – "A pure girl whose friends are photographs."
Romi Nakaza (voiced by Yuuki Takada) – "The brazen school idol of the dance club."
Rinze Himenogi (voiced by Yui Ishikawa) – "The gymnastics club angel who forgot to smile."

With a total of six girls plus a teacher, you can experience a pure love story with seven romantic interests.

■ Event Scenes from Himari Saiki's Prologue

—An event where you eat Ms. Himari's "Beaker Ramen" (curry ramen in a beaker).

■ Immersive Photo Sessions

By using the Switch as a camera and tilting the hardware, you can change the shooting angle and take photographs with a virtual feel.

On PlayStation 4, tilting the DualShock 4 controller changes the shooting angle, and you can requests the girls to do poses through voice input.

Whichever platform you choose, you can experience an immersive Photo Session.

■ More Information to Come

LoveR Kiss has many newly developed elements that were not in the original LoveR. Please look forward to more information in the future.

■ Specifications
Watch the announcement trailer below. View the first screenshots at the gallery.