Kingdom Under Fire II 'Spellsword' class trailer, opening movie, and screenshots
A master of ice and lightning magic.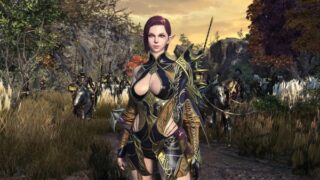 Publisher Gameforge and developer Blueside have released a new set of trailers for Kingdom Under Fire II introducing the Spellsword, one of five character classes featured in the game.
Here is an overview of the Spellsword, via Gameforge:
With her mastery of ice and lightning magic, the Spellsword is a powerful adversary who shouldn't be underestimated!

A relative of the Dark Elves, the Spellsword combines her magical runes to produce ever new attacks or to heal herself, compensating for her relatively shallow health pool. On the battlefield she darts and jabs with agility, wielding sword and scepter.

She was the fruit of a forbidden experiment that harnessed the power of the gods themselves to combine the blood of the Ancient Elves and the present-day Dark Elves. After barely escaping the appalling research, a Dark Elf with fair skin meandered through the world to live cast out from both the Elves' and the Dark Elves' societies. She found refuge with the Azilia Knights in a place where she could avoid the watchful eyes of possible pursuers.
Kingdom Under Fire II is due out for PC in North America and Europe through multiple digital platforms in November. Pre-orders are currently available via the game's official website.
Watch the trailers below. View the screenshots at the gallery.
Spellsword Character Spotlight
Spellsword Opening