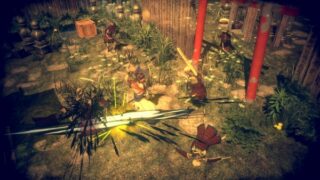 Australian Classification has rated the September-announced swordplay action RPG Katana Kami: A Way of the Samurai Story.
The Acquire-developed spin-off, which is due out for PlayStation 4, Switch, and PC in early 2020 in Japan, has yet to be announced for a western release by publisher Spike Chunsoft.
Katana Kami follows a samurai as he travels to a forbidden land in order to save the daughter of the blacksmith kidnapped as collateral for his debt. During the day, you will earn money by selling swords as a blacksmith, and during the night, you will travel to another world through a gateway in a pine tree to fight enemies, and gather swords and materials. Dungeons are automatically generated, offering a new layout each time you play. If you missed our previous coverage, read more about the game here.