Yakuza: Like a Dragon has summons, kart racing, PachiSlot, and more [Update]
Use weapons like a rocket launcher or Gatling gun while racing.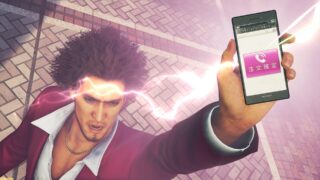 The latest issue of Weekly Famitsu has new information on Yakuza: Like a Dragon (Yakuza 7: Whereabouts of Light and Darkness).
Get the tidbits below.
■ Characters

Kouichi Adachi (voiced by Akio Ootsuka)

A former detective. He has received an unreasonable demotion by Horinouchi, the Superintendent General of the Metropolitan Police, for revolting against him. He is working with protagonist Ichiban Kasuga to get closer to Masumi Arakawa, who holds the evidence.

Saeko Mukouda (voiced by Sumire Uesaka)

Cabaret hostess.

■ Live Command RPG Battles

When a battle begins, the regular people and those wearing delinquent-like outfits on the field will transform into RPG-like enemy characters with mohawks, or be half-naked, and have weapons.

■ Summons

By paying money on your smartphone in battle, you can summon help. A large number of characters can be summoned, including Gary Buster Holmes, Gonda Wara, a crayfish, and more. Summons can support you in battle through attack, recovery, and more.

■ Play Spots

Dragon Kart – A racing game set on a course in the streets of Yokosuka. Pick up boxes to obtain weapons like a rocket launcher or Gatling gun.
Traditional Movie Theater – Ichiban Kasuga always falls asleep in the middle of a movie. This is a button-pressing (rhythm game?) where Kasuga battles the temptation of a sheep man in order to overcome that sleepiness.
PachiSlot – PachiSlot games Million God: Kamigami no Gaisen Another God Hades: Ubowareta ZEUS Ver., PachiSlot Fist of the Blue Sky: Houyuu, and PachiSlot Moujuuou: Ouja no Houkou appear. Settings do not reset when you leave the parlor, but rather change with specific timing. Machines located closer to the entrance have higher rates, which reflect the settings of real life parlors. This is the only PachiSlot simulator running on PlayStation 4.
Yakuza: Like a Dragon is due out for PlayStation 4 on January 16, 2020 in Japan, and in 2020 in the Americas and Europe. Read more about the game here.
Thanks, Ryokutya2089.
Update 11:05 a.m.: Added preview scan and screenshots, via Famitsu.