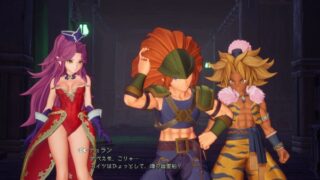 Trials of Mana will launch for PlayStation 4, Switch, and PC via Steam on April 24, 2020, Square Enix announced.
Pre-orders will include the "Rabite Adornment" downloadable content. PlayStation Store pre-orders will also include a PlayStation Network avatar set featuring Duran, Angela, Kevin, Charlotte, Hawkeye, and Riesz.
Square Enix also announced the game's Japanese voice cast, which is as follows:
Duran (voiced by Takuya Eguchi)
Angela (voiced by Rumi Ookubo)
Kevin (voiced by Ryouta Oosaka)
Charlotte (voiced by Sumire Morohoshi)
Hawkeye (voiced by Yuuki Ono)
Riesz (voiced by Mikako Komatsu)
Faerie (voiced by Maaya Uchida)
Crimson Wizard (voiced by Yuichi Nakamura)
Goremand (voiced by Tomokazu Sugita)
Belladonna (voiced by Yoshino Nanjou)
Other newly announced details include:
The game features a 60-song arrange supervised by original Seiken Densetsu 3 composer Hiroki Kikuta. Players can switch between the original sound source and the arrange at any time during gameplay.
The battle system has been enhanced from the original with new actions such as jumping, combo attacks, and enemy attack evasion.
Changing classes is more clearly reflected in a character's appearance.
Here is an overview of the game, via PlayStation.com:
About

When the world was shrouded in darkness, the Goddess of Mana drew forth the Sword of Mana to smite the eight Benevodons, monsters of destruction. She sealed the horrors inside the eight Mana Stones, bringing the realm back from the brink. Weakened from rebuilding the world, the Goddess changed herself into a tree and fell into a deep sleep for many years.

However, the forces of evil soon sought to free the Benevodons to gain control of the world. They started a terrible war to further their plot and destabilize the kingdoms. Peace was at an end. Mana itself began to disappear from the world and the Mana Tree started to wither…

Key Features

Trials of Mana is a full high-definition remake of the third entry in the Mana series, previously released in Japan in 1995 as Seiken Densetsu 3. Trials of Mana tells the story of six heroes in their battle to defeat monsters of destruction trying to take over the world whilst the power of Mana has been weakened.
Players can choose between six main characters and supporting allies, the story will play out in different ways depending on the combination of the main character and allies in the party.
Watch a new trailer below. View a new set of screenshots at the gallery.
English
Japanese