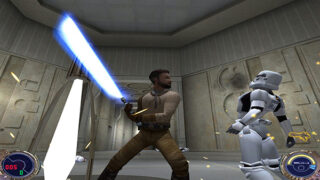 Star Wars: Jedi Knight II: Jedi Outcast is coming to PlayStation 4 and Switch on September 24, followed by Star Wars: Jedi Knight: Jedi Academy in early 2020, publisher Apsyr Media announced.
Aspyr Media is bringing back the game's popular online multiplayer battles. Both games will also feature Gyro Aiming support for the Switch Joy-Cons.
Here is an overview of Star Wars: Jedi Knight II: Jedi Outcast, via Nintendo.com:
About

A Jedi outcast struggles with his past, his enemies, and his destiny.

Kyle Katarn's classic adventure lands on Nintendo Switch! Experience the legendary single-player epic with modernized controls.

Key Features

As Kyle Katarn, agent of the New Republic, use your Lightsaber and the full power of the Force to combat a new evil plaguing the galaxy.
Choose wisely from an arsenal of 13 weapons including disruptor rifle, thermal detonators, trip mines, and Wookiee bowcaster.
Test your skills in 24 single-player missions, four epic boss fights, and one unforgettable cantina.