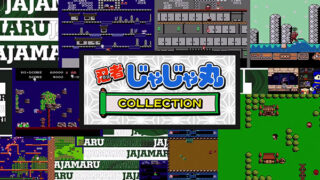 City Connection has released the debut trailer for Ninja JaJaMaru Collection, its upcoming collection including five classic JaJaMaru titles in addition to one completely new entry.
The collection includes the following six titles:
Ninja JaJaMaru-kun (1985, Famicom)
JaJaMaru no Daibouken (1986, Famicom)
JaJaMaru Ninpouchou (1989, Famicom)
JaJaMaru Gekimaden: Maboroshi no Kinmajou (1990, Famicom)
Ninja JaJaMaru: Ginga Daisakusen (1991, Famicom)
Ninja JaJaMaru: The Great Yokai Battle (New)
Ninja JaJaMaru Collection is due out for PlayStation 4 and Switch on December 12 in Japan. Read more about the collection here.
Watch the trailer below.