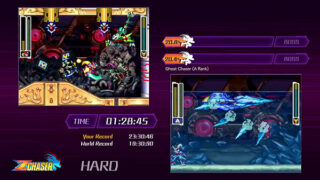 Capcom revealed the new "Z Chaser" mode for Mega Man Zero/ZX Legacy Collection at Tokyo Game Show 2019.
Z Chaser mode features three gameplay rules:
Single Chaser – The rules are simple: Race against the clock and clear each stage! Includes five difficulties levels (B, A, S, Z, ZZ). Zoom through each stage to beat your best time! Every millisecond counts! There are 12 stages in total! Do you have what it takes to defeat your rivals?
Double Chaser – Go head-to-head with friends in local play on one console!
World Record Chaser – Download top-ranked replay data from players across the globe and challenge their best times! Improve your top time as you chase your rivals. It's up to you to choose how to play!
Mega Man Zero/ZX Legacy Collection is due out for PlayStation 4, Xbox One, Switch, and PC via Steam on January 21, 2020.
Watch a trailer below. View a new set of screenshots at the gallery.