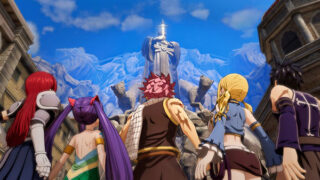 The latest issue of Dengeki PlayStation has new information on publisher Koei Tecmo and developer Gust's upcoming Fairy Tail game.
Here are the information tidbits:
The main story alone should be about 30 hours of gameplay.
There is side content such as character episodes and special costumes, so it should actually take longer than 30 hours.
Game-unique stories will appear, such as requests related to characters that do not appear much in the original manga or anime.
There are more than 10 playable characters.
There are costumes.
Downloadable content is being considered.
As your guild rank increases, your magic links will become greater and you can learn ultra magic-esque legend-class magic.
By fulfilling the requests of the townspeople, you will be able to upgrade your guild's various facilities.
Your bonds with your party will deepen as you place them in your party or fulfill requests together.
Battles are command-based, as previously announced. Play while considering things like, "when should I do this?," "who should I do it to?," "what magic should I use?," and "who should I use it on?"
Support character Makarov Dreyar can assist you with "Fairy Law"-esque ultra magic.
There are characters that support each factility, job, and the lik within the guild.
Fairy Tail is due out for PlayStation 4, Switch, and PC worldwide in 2020.
Thanks, Ryokutya2089 and Games Talk.