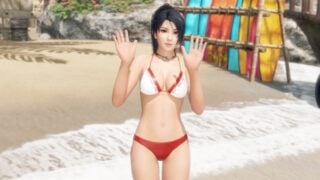 Dead or Alive 6 will add Momiji from Ninja Gaiden as a playable character via paid downloadable content on September 19, publisher Koei Tecmo and developer Team Ninja announced.
The Momiji additional character includes five costumes:
Deluxe Costume
Happy Wedding Costume
Pirates of the 7 Seas Costume
Seaside Eden Costume
Summer Breeze Collection
Also due out on September 19 is the "Morphing Ninja Costumes" set, which includes 26 costumes. Transformation is activated by taunting or triggering a Break Blow.
In related news, Koei Tecmo announced that Dead or Alive 6 Core Fighters (the free-to-play version of Dead or Alive 6) has topped 1.5 million downloads and that Hayabusa and Ayane are available for free until September 25.
Dead or Alive 6 is available now for PlayStation 4, Xbox One, and PC.
Watch the Momiji reveal trailer below. View a set of screenshots at the gallery.