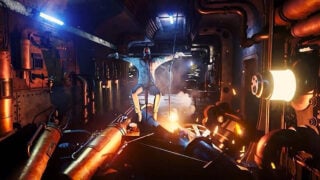 Narrative survival horror game Close to the Sun will launch both physically and digitally for PlayStation 4, Xbox One, and Switch on October 29, publisher Wired Productions and developer Storm in a Teacup announced.
A 1,000-copy print run Collector's Edition is currently available for pre-order on the Wired Productions Store. For $98.66, it includes the following:
A physical copy of Close to the Sun on PlayStation 4, Xbox One, or Nintendo Switch
Stunning Art Deco FuturePAK metal game case compatible with your chosen format
Deluxe hardback art book featuring 48 pages of awe-inspiring Close to the Sun game art
Exclusive Close to the Sun, Faraday Key-Card metal pin badge
Seven-inch vinyl record featuring the Close to the Sun's mesmerizing titular track by Porcelain Pill
Ada's heartfelt letter to her sister Rose, summoning her aboard the Helios
Numbered and stylized certificate of authenticity
Premium finish fitted presentation box
A bonus digital copy of Close to the Sun for the Epic Games Store so fans can enjoy the game in its original format
The game first launched for PC via the Epic Games Store in May.
Here is an overview of the game, via Wired Productions:
Grounded in an alternative 19th Century where famed inventor and futurist Nikola Tesla was able to fulfill his potential and change the world forever, Close to the Sun sees players step onto the Helios, a colossal vessel for scientific research, steeped in horror and mystery. As the heroine, Rose, players find themselves walking the massive area looking for their lost sister on the majestic yet mysterious ship created by Tesla. Where is Ada and what happened? Grand halls stand empty. The stench of rotting flesh lingers in the air. Silence. A single word is painted across the entrance… QUARANTINE!

Furthering the game's experience is an exclusive single from pioneering Australian folktronica act, Porcelain Pill, that players can listen to right now on YouTube or Spotify. Composed by Porcelain Pill founder Adam Scott-McGuinness, the Close to the Sun single was created for the atmospheric horror game of the same name, exploring the title's dark themes and warnings through stunning vocals and mesmerizing instrumentals.

Using the raw power of the Unreal Engine 4 and embracing leading-edge technology to increase fidelity and quality within the game to deliver a breath-taking experience for players, Close to the Sun has already garnered considerable interest and praise from critics as well as fans.
Watch a nwe trailer below.