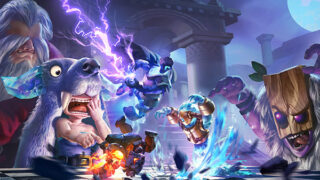 Dragonest will release PlayStation 4 and Switch versions of Auto Chess in 2020, the company announced.
The news comes via a fan meetup event in Tokyo, during which Dragonest CEO Loring Lee discussed future development plans with Japanese fans, including the release of console versions. Lee hopes that the large console market in Japan will help attract new players.
Auto Chess is a competitive multiplayer online strategy game developed in China that originally began life as a Dota 2 mod, before branching off into a standalone game for iOS and Android. A standalone PC version is currently in beta testing and due out via the Epic Games Store in 2019.
The next update for the smartphone version will be released in October, which will add a spectate feature, as well as Japanese voice-overs following the previously implemented Chinese and English voice-overs.
The following future updates are also planned:
An in-game voice chat feature for Duos
A four-versus-four mode
A tournament feature (where large groups of people such as 64 or 32 can participate and are automatically scored according to their rank—this feature is due out by the end of 2019)
Match replay feature (due out in the version update after the next one)
Item availability balancing and synthesis method adjustments
Here is an overview of the game, via its App Store page:
About

Auto Chess is a brand new, highly competitive multiplayer online strategy game created by Drodo and Dragonest, released and technically supported by Dragonest. Players will build their own economy system and use unique units to fight against each other in an eight-player, last man standing scenario. Pit your strategy skills against seven other players at the same time and proof your skill to adapt your strategies in real-time. ImbaTV will manage Auto Chess' global eSports tournaments. No matter where you're from, you can challenge the top players from all over the world. The world's top Auto Chess eSports league awaits!

Key Features

Innovative Gameplay – By collecting / changing Hero cards and arranging different formations, eight chess gamers will content for first prize in the following tens of minutes. Millions of players are challenging each other every day in what has become one of the most popular leisure modern gameplay.
Fair Play – Make a real fair-play game! The World eSports Games are created by Dragonest, Drodo, and lmbaTV. A million prize pool awaits!
Strategy Rules the World – Players will randomly get their Heroes in the Sharing Cardpool, and form special formations according to their unique strategies. Evolution, combination, jockey for position, and so on enable you to practice your strategies to the greatest extent. Will you be able to adapt to the changing tide and survive till the end?
Global Server – No matter where you come from, welcome to our world and challenge players from all over the world!
Thanks, PC Watch.