Upside down adventure game Youropa coming to Switch this winter
A game about breaking rules, being upside down, and thinking outside the box.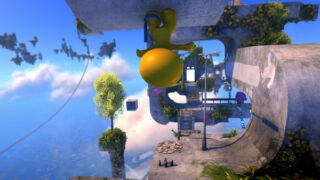 Youropa, which first launched for PC in June 2018, is coming to Switch this winter, developer Frecle announced.
Here is an overview of the game, via its Steam page:
Waking up trapped in a tree, with no recollection of anything, you must explore a strange fragmented city floating in the sky to learn who you are and where you fit into the world.

Gravity Defying Gameplay – Walk upside down, on walls, in fact walk anywhere you can get to. Your suction cup feet let's you stick to any surface.
Mind Bending Puzzles – Solve complex logical and physical puzzles using your unique abilities.
Evolve and Explore – Learn new abilities and use them to explore the fragmented city further.
Create Your Own Game – Built-in level, map and character editors let's you build an entirely new game using simple tools. You'll be creating in minutes.

You play a You (short for Youropean), a small humanoid with suction cups instead of feet, which allows you to walk up walls and on ceilings. You must use your unique ability to solve a constantly evolving set of challenges. You will encounter physical puzzles, riddles, ferocious enemies, environmental hazards and more, in an abstract but logical universe that challenges your perception of the third dimension.

Expand the game by building your own levels, cities and creating your own characters. The entire game is created using the incredibly easy to use built-in editing tools. Unlock more than 450 building blocks, construct amazing levels and build entire adventures by linking the levels together on the map.

Youropa is a game about breaking rules, being upside down, and thinking outside the box.
Watch the Switch announcement trailer below. Visit the official website here.