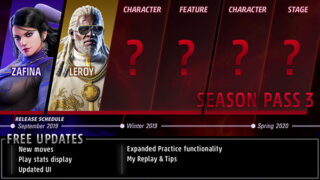 Bandai Namco announced Tekken 7 Season Pass 3 following the Tekken 7 grand finals at EVO 2019, which features four additional characters including returning fighter Zafina and new character Leroy Smith.
Zafina is due out in September, followed by Leeroy, another character, and a new feature this winter, and a new character and stage in spring 2020.
Various free updates are also on the way, including new moves, play stats display, an updated user interface, expanding Practice functionality, and "My Replay & Tips."
Tekken 7 is available now for PlayStation 4, Xbox One, and PC.
Watch the Season Pass 3 announcement trailer below.
Update 08/05/19 at 9:50 p.m.: Bandai Namco has posted a new set of screenshots of Zafina and Leroy Smith. View the batch at the gallery.