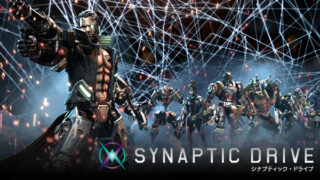 Publisher Yunuo Games will release Thousand Games-developed online competitive shooting battle game Synaptic Drive worldwide for Switch via the Nintendo eShop and PC via Steam, the company announced. A release date was not announced.
Yunuo Games will debut the latest trailer and have six playable demo stations for the Switch and PC versions of Synaptic Drive at Tokyo Game Show 2019, which runs from September 12 to 15 at the Makuhari Messe in Chiba, Japan. Visit the company's Tokyo Game Show 2019 official website here.
Here is an overview of the game, via Yunuo Games:
About

A 3D online competitive shooting game set in the distant future, somewhere in the far reaches of space.

Utilize three types of weapons—gun, wire, and tracker—while chasing down and damaging your opponent in one-on-one high-speed arena battles. With the tagline, "Bring blood to cyberspace," this is a game set in a cyber world that tests the limits of your reflexes in battle and where you will feel the constant rush of blood in your veins.

Endless Combinations of Bodies, Weapons, Arenas, and More

There are over 10 body types—which determine character appearance, durability, and so on—over 100 weapon types (guns, etc.), and various arenas that act as battle stages. The combinations of these will greatly influence your strategy and the outcome of battle. This is a simple, yet highly replayable game.

Staff

Game Director: Kouji Kenjou
Sound Producer: Shinji Hosoe
Character Designers: Kengo Tanaka, Katsuya Terada, Satoshi Nakai, and many more
View a set of screenshots at the gallery. Visit the official Japanese website here.