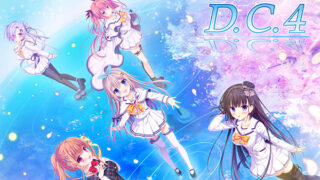 Circus-developed romance visual novel D.C.4: Da Capo 4, which first launched for PC in April, is coming to PlayStation 4 and Switch in Japan via publisher Entergram on December 19, listings at Japanese retailers such as Rakuten and Yodobashi reveal.
In addition to the 9,072 yen standard edition, an 11,880 yen limited edition including a custom-illustrated B2 tapestry, mini message card, and newly recorded wake-up voice CD is also planned.
Rather than just a port, the console version of D.C.4: Da Capo 4 will include newly added epilogue scenes with each of the heroines written by the original game staff.
Here is an overview of the game's story, via VNDB:
Those who live on the island of Kagamijima are used to the sight of the 'large cherry blossom that floats in the sky' rising out of the middle of the Mikagami lake. Such beautiful scenery had been the lone draw for the island, but lately a new sightseeing spot was born with the opening of a theme park based on Wonderland. The main character and humanoid AI Alice charms everyone with her lovely smile, while artificial faeries dance around the island like fireflies.

Ichito, a young man with an incomplete fairy tale-like skill.

Nino, his mischievous younger sister who won't show her true side to anyone else.

Sorane, his neighbor that loves the siblings a lot and helps them out all the time.

Hiyori, his trouble-making classmate who has a surprisingly good record in helping people fall in love.

Shiina, a taciturn transfer student with a sharp tongue.

Suginami, his buddy who's always aware of the latest mysteries.

Then there was Arisu, an ojousama with the same name as the protagonist from Wonderland.

As the sakura petals flutter and artificial faeries dance, a tender love story begins on the island closest to the sky.
Update 08/22/19 at 5:30 a.m.: Entergram has officially announced the PlayStation 4 and Switch versions. Visit the official website here.