Robot-themed fighting game Metal Revolution coming to PS4
"Minimalistic controls and deep gameplay."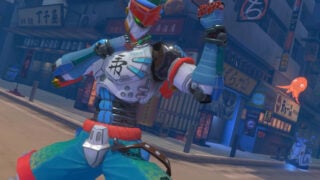 Robot-themed fighting game Metal Revolution is coming to PlayStation 4 in addition to its previously announced PC version, Chinese developer NEXT Studios announced at ChinaJoy 2019.
The PlayStation 4 version of Metal Revolution will be playable at ChinaJoy 2019 in Shanghai from August 2 to 5 at the PlayStation booth.
Here is an overview of the game, via its Steam page:
About

Metal Revolution is a new generation of fighting game. The minimalistic controls, deep gameplay, and the cyberpunk robot theme are designed to bring a fresh battle experience. The game is supported across all platforms and multiple languages to let players from around the world seamlessly enjoy fighting in the new gaming era! There is no room for those who hold back, no place for weakness. For the fighters who never flinch in the face of furious combat, welcome to Metal Revolution.

Key Features

Futuristic Science and Steel Wills

A new fighting game set in a futuristic world, Metal Revolution is based on the conflict between technology and humanity, brings you a unique new world of fighting.

Classic Fighting Experience, All-New Controls

Simple Moves Allow for Creativity – Breaking from traditional fighting game controls, players can easily master the basic moves, and even newcomers can also use cool combos.
Defensive Blocking: The Key to Reversal – The unique blocking and parry mechanic allows you to reverse the battle situation when you are passively defending!
Explosive Ultimates – Each character has a unique ultimate art, a gorgeous way to end your opponent!

Game Modes

Arena (Ranked) – A competitive one-on-one online match against other players in the arena. Win the match, rank up and unlock unique rewards.
Quick Match – "Jump right in" fighting experience against players from all over the world. Test out new strategies, fighting styles, or combos in a challenging setting.
Friend Mode – Invite your friends to a match to see who is really the strongest fighter.
Local Mode – A face-to-face contest with friends in the local offline state.
Arcade Mode – Fight against all kinds of AI and challenge your limits.
Training Mode – Learn about the Metal Revolution systems from the ground up, as well as the unique play style of each character, and hone your skills as you complete several training tasks.

Post-Launch Content

More Skins and Stages
More Battle Modes
Story Mode – In the story mode, you can explore the stories behind each character in the game, their connections to the other characters and discover the intrigues hidden behind the fighting contest. Players can earn coins by competing in the game which can be used to buy in-game items. You can also purchase all the characters and their unique skins.
Watch a trailer below. Visit the official website here.