Procedurally-generated maze game Crown Trick coming to PS4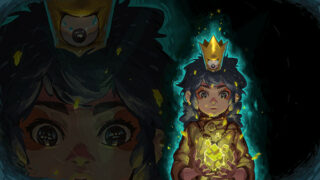 Procedurally-generated maze game Crown Trick is coming to PlayStation 4 in addition to its previously announced PC version, Chinese developer NEXT Studios announced at ChinaJoy 2019.
Here is an overview of the game, via its Steam page:
About

No one knows what will happen in the next room.

Crown Trick is a procedurally-generated maze game with roguelike gameplay and hand drawn art style. Take up the unbelievable crown and start your underground adventure with the power bestowed

Key Features

Procedurally-Generated Mazes – Every time you enter the maze it's a new experience. Water, Fire, Ice, Wind, Poison, and Earth make up the world's elements and they mutually affect one another and bring various new ways to damage your enemies. Booby traps, treasure chests, natural springs, mysterious statues, and unknown inhabitants come together in this underground world.
2D Hand-Drawn Underground World – This hand drawn underground world is filled with fantastic trials. From witches' castles to the limitless abyss and every kind of underground creature. You can take swords, bows, muskets, and magic staffs as you explore and fight off the lurking evils.
Intriguing and Innovative Gameplay – Intriguing and innovative gameplay, interactive elements lead to numerous ways to play, sucessfully using the terrain is key. Synchronous turn-based gameplay, form the basis for this RogueLike RPG.
Mystic Abilities and Mysterious Crowns – The dangerous but powerful crown accompanies you on your adventure. There are dozens of monsters within the crown whose abilities are waiting to be unlocked as you level up.

Even More Extras

An innovative approach to classic synchronous turn based battle.
Roguelike play style with procedurally generated mazes.
Four to five different styles of maze that encourage multiple playthroughs.
Randomly generated maps, treasures, traits, items, and mysterious events.
100-plus unique underground creatures.
100-plus extraordinary weapons.
60-plus spells.
30-plus passive abilities combine them however you like.
80-plus traits.
70-plus treasures.
30-plus tools.
Every development is different, every repetition brings new experiences.
Explore a world with numerous hidden elements from Bosses, rooms, stories, and tools.
Watch a trailer below.