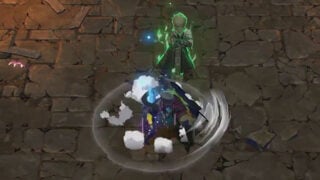 Square Enix has released a new gameplay video for Oninaki focused on the Daemon character Gavod (voiced by Ryoutarou Okiayu).
In Oninaki, players can equip their characters with special Daemon attacks to enhance their skills and abilities. Here is an overview of Gavod, via the game's official website:
An audacious Daemon who's never caught off guard, Gavod is keenly aware of the actions and emotions of others, and makes every effort to accommodate them. He still holds distant memories of loved ones, and eyes filled with despair. Gavod is a skilled user of shieldcannons, unwieldy weapons that afford the protection of a shield and allow the user to keep up heavy, close-range attacks while waiting to unleash a devastating cannon blast.
Previous gameplay videos featured the Daemons Lucica, Izana, Treize, Zaav, Wil, Dia and Rigan.
Oninaki is due out for PlayStation 4, Switch, and PC worldwide on August 22. A demo is available now.
Watch the gameplay video below.