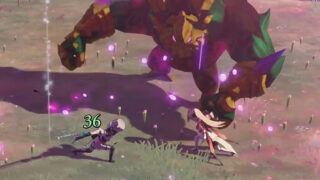 Square Enix has released a new gameplay video for Oninaki focused on the Daemon character Aisha (voiced by Naomi Ohzora).
In Oninaki, players can equip their characters with special Daemon attacks to enhance their skills and abilities. Here is an overview of Aisha, via the game's official website:
A passionate and caring Daemon. Aisha has been at Kagachi's side since he first became a Watcher. She still holds distant memories of fleeting happiness and an intense longing for love. Aisha can dash to move quickly across the battlefield, and the swords she wields strike fast and hard, making her a well-balanced warrior.
Previous gameplay videos featured the Daemons Gavod, Lucica, Izana, Treize, Zaav, Wil, Dia and Rigan.
Oninaki is due out for PlayStation 4, Switch, and PC worldwide on August 22. A demo is available now.
Watch the gameplay video below.