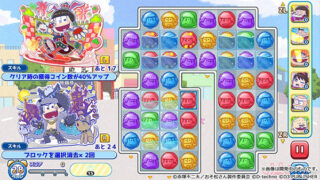 Smartphone match-three puzzle game New Puzz Osomatsu-san is coming to PlayStation 4 and Switch as Motto! New Puzz Osomatsu-san: Shinpin Sotsugyou Keikaku on December 5 in Japan via D3 Publisher, the company announced. The Switch version will be available both physically and digitally, while the PlayStation 4 version will only be available digitally.
The digital edition of the game will cost 5,800 yen on both platforms, while the Switch physical standard edition will cost 5,800 yen, and the limited edition will cost 9,800 yen per variation (there are six variations—one for each Osomatsu-san brother). The limited edition includes a 100-plus-page "Scenario & Skill & Voice Collection Data Book," a custom-illustrated acrylic stand, three "Oshimatsu" acrylic stands, a diorama outer box, a background card, and a background deco seal. The acrylic stands, diorama outer box, and background cards differ per limited edition variation.
Here is an overview of the game, via Japanese retail listings:
What kind of game is it?

A match-three puzzle game with simple controls. Choose two "Oshimatsu" and utilize their skills.
An original story will progress as you clear each stage.
There are three stages of graphics that evolve as your affection level rises.

Motto! Features and Additions

Over 500 bonus voices. There are over 500 bonuses voices that can only be heard in the Motto! edition of the game. The voices you collect can be played back at any time in the "Voice Gallery." Of course, all the voices from the smartphone version are also included.
Additional original story. More story has been added to the game map.
Almost all the content from the smartphone version. That of course includes the main scenario, as well as almost all of the time-limited events.
Switch version playable in TV mode, table mode, and handheld mode. In handheld mode, you can play the game using the touch panel like the smartphone version. The PlayStation 4 version is only playable with a controller.

Cast

Osomastu (voiced by Takahiro Sakurai)
Karamatsu (voiced by Yuichi Nakamura)
Choromatsu (voiced by Hiroshi Kamiya)
Ichimatsu (voiced by Jun Fukuyama)
Jyushimatsu (voiced by Daisuke Ono)
Dodomatsu (voiced by Miyu Irino)
Visit the official website here.