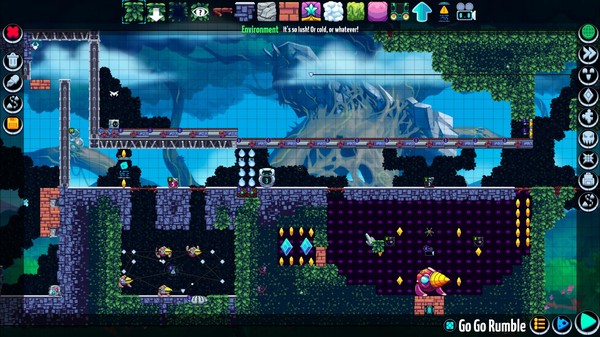 Platformer sandbox game Levelhead, which was previously announced for Switch and PC, will also launch for Xbox One, developer
Butterscotch Shenanigans announced.
Levelhead is currently available for PC via ,a href="https://store.steampowered.com/app/792710/Levelhead/" target="_blank">Steam Early Access for $19.99, but will be $13.99 with a Steam Daily Deal beginning today at 10:00 a.m. PT / 1:00 p.m. ET. The Early Access version just launched its 11th update, which adds a new social likes system to player-made levels.
"This genre of game transforms players into designers and lets them experience the thrill of having a crowd of people play the things they make," said Butterscotch Shenanigans co-founder Sam Coster in a press release. "Levelhead's tools are powerful enough that people are making other games inside it, from metroidvanias to Pokemon battles. We've been blown away by the Early Access community's creativity so far, and we can't wait to see what the Xbox community does with the game at launch."
Here is an overview of the game, via its Steam page:
About

Listen up, new employee! The Bureau of Shipping has a bunch of newly formed delivery robots runnin' around, and someone's gotta teach them the ropes. That someone is YOU. You've got your very own GR-18 and you'll need to work that little robo through training, then build and share levels with the other Levelheads so we can start dispatching these A.I. across the galaxy!

Welcome to the Levelhead division!

Key Features

Master the Challenging Campaign – Take control of GR-18, a delivery robot in-training, as you run, jump, and blast your way across a challenging campaign hand designed by the devs.
Build Your Own Levels – Hop into the Workshop to create your own levels with hundreds of elements including enemies, hazards, paths, programmable switches, secrets, weather fx, and power-ups.
Share Your Creations with the World – Publish your levels for the world to enjoy and see your Play Time and Attempts stats rack up! With robust search and subscription, Levelhead makes amassing a following and playing nearly infinite content from around the world a breeze.
Compete for Speed and Score – Every level comes with a leaderboard – take the top spot and you'll hold the trophy! But be on the look-out, the competition is fierce and you never know who will be coming for your accolades!
Couch Co-op – Levelhead lets you play with up to 4 friends on the same couch for some downright hilarious entertainment. And if you want to really reach for those relationship goals, hop into the Workshop with friends and build levels with everyone at once.
Watch a new trailer for the 11th update below.