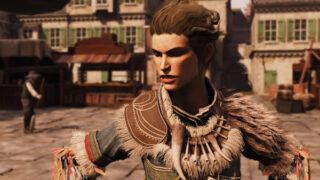 Publisher Focus Home Interactive and developer Spiders have released a new trailer for action RPG GreedFall introducing the companions players will encounter on their journey.
"In GreedFall, you are a diplomat above all else," reads the Focus Home Interactive press copy. "What defines your character is how you deal with the unique situations your position puts you in, and the company you choose to keep. Think your choices well, as each of the companions you encounter on your journey belongs to one of the many factions or guilds, with all the prejudices and ambitions this may bring. "
Here is an overview of the game, via Focus Home Interactive:
About

Explore uncharted new lands as you set foot on a remote island seeping with magic, and filled with riches, lost secrets, and fantastic creatures.

Forge this new world's destiny, as you befriend or betray companions and entire factions. With diplomacy, deception and force, become part of a living, evolving world—influence its course and shape your story.

Key Features

Engage in a core roleplaying experience – Achieve quests and complete objectives in a multitude of different ways – through combat, diplomacy, deception, or stealth.
Complete freedom in character progression – Play as a male or female, customize your appearance, and freely choose your abilities, spells and skills.
Delve into a mysterious world of magic – Begin a grand journey and uncover ancient secrets protected by supernatural beings, manifestations of the island's earthly magic.
GreedFall is due out for PlayStation 4, Xbox One, and PC on September 10.
Watch the trailer below.