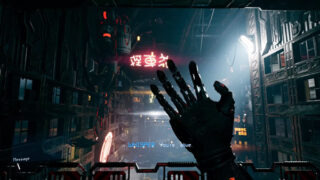 Publisher All in! Games and developer One More Level have released an official Gamescom 2019 gameplay video for its newly announced first-person perspective cyberpunk action game Ghostrunner.
Here is a brief overview of the game, via All in! Games:
Dive into an intense cyberpunk world and experience fierce, dynamic combat!

Climb a great tower-city, humanity's last remaining shelter. Slay your enemies as your blade slices through trouble while delivering bone-crushing one-hit kills. Bullet-time mechanics give you an edge in fast combat. Fight both in the physical world and in cyberspace as you run across walls and slow down time. As you advance up the tower, secrets are revealed. When you realize that you're being hunted for the tech under your skin, the clock starts ticking on a race to uncover the mystery behind the structure. Solve the riddle or be killed—there is no other option.

The NVIDIA GeForce RTX platform fuses the AI capabilities, next-gen programmable shaders and real-time ray tracing to let you experience games in a completely new way.
Ghostrunner is due out for PlayStation 4, Xbox One, and PC in 2020.
Watch the fotoage below.