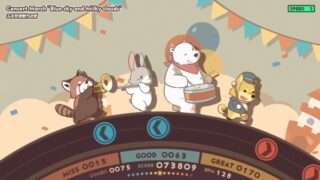 Wonder Parade, the Studio Quare-developed fairytale-like rhythm game currently available for iOS via the App Store and Android via Google Play, is coming to Switch and PC (Steam), publisher X.D. Network announced. A release date was not announced.
Here is an overview of the game, via X.D. Network:
About

Wonder Parade is an all new indie game produced by Studio Quare and published by X.D. Network, Inc. Wonder Parade is a remarkably cute game that offers a new take on the music game experience. The story revolving around a marching band formed by adorable pets on a strange yet wonder planet somewhere in the universe, players take the role of being their guider, guiding them in performing musical instruments as they marching on the unknown journey.

Key Features

Simple controls that allow players of all skill levels to enjoy Wonder Parade on any platform any where and any time.
Music carefully crafted to match the game's unique atmosphere provided by composers with experience from Sega, Konami, Taito, and other renowned Japanese companies.
Adorable animals performing captivating symphonies that everyone will fall in love with.
Recipient of the TapTap Game Awards 2017 – Best Audio award, nominated for TapTap Game Awards 2017 – Best Visual Art and TapTap Game Awards 2017 – Best Indie Game.

About the Developer

Studio Quare is a Chinese indie game development studio with run solely by Kui. Wonder Parade, however, was developed in partnership with many close friends from the gaming community.

Just like the animals marching forward in their musical journey, we meet many new friends during our own adventure.

In Development

Go forth in the journey of your dreams, my fluffy friends!

Nintendo Switch and PC versions of Wonder Parade are currently in development, and are built off the mobile version of the game. An all new stage mode is also in development. New animals joining the band, more than 10 new songs to conduct, and an all new theme with a magical storyline to explore are waiting for you in Wonder Parade!
Watch the announcement trailer below. View a set of screenshots at the gallery.