Death Stranding Gamescom 2019 Mama, Bridge Baby, and Ludens Fan trailers
All the latest on the upcoming Hideo Kojima title.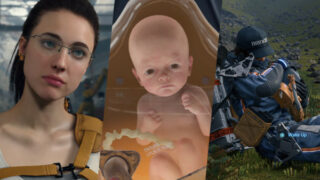 Kojima Productions founder Hideo Kojima debuted three new trailers for Death Stranding during the Gamescom 2019 Opening Night Live show.
The first video introduces a character named Mama (portrayed by Margaret Qualley). According to Kojima, many characters will appear in Death Stranding, each with their own sub-story separate from the main story. Mama's story is that her baby was born on the "other side," rather than in her world, and they are connected only by umbilical cord. She is unable to leave her location because that is where her baby exists on the other side.
The second video introduces Deadman (portrayed by Guillermo del Toro) and the Bridge Baby. Dead Man explains a bit about the BB (Bridge Baby) Pod. The BB Pod is connected to the world of the dead, which enables the connection between the BB and Sam, granting Sam the ability to sense BTs. Players will journey together with the BB and build a connection, which will be part of the gameplay.
The third video, a gameplay clip, opens with protagonist Sam relaxing, before getting up to urinate on the grass, where a mushroom subsequently grows. Sam then heads towards his destination—a Delivery Terminal where he delivers "Lost Cargo: Character Figurines" to a character modeled after Geoff Keighley. Sam then leaves and falls off a cliff, causing his BB to cry. Sam then must cradle the BB using the DualShock 4 motion sensors to rock it calm. If you shake too fast, however, the BB will get upset.
According to Kojima, Sam must connect the fractured cities and people from the east to west, while avoiding obstacles such as BTs and terrorists. Along the way, you will also encounter those called Preppers, or people in hiding. While some Preppers do not have anything to do with the main story, players might want to find them and "connect" as they may provide something useful. When players start to connect like this in the game, they will somehow notice you are connected to others worldwide—though Kojima did not further elaborate.
Kojima also further touched on the urination scene at the beginning of the gameplay video, saying that players will not be able turn the camera to see Sam urinate, as he will always turn away before the camera reaches him. Sam also cannot urinate with other people around him. Kojima also noted that the mushroom grew when Sam urinated on it, and that if many players urinate at the same spot, something good may come later on.
Finally, Kojima said that while he cannot announce anything now, there will be many people who cameo in the game such as Geoff Keighley.
Kojima will show off more gameplay of Death Stranding at Tokyo Game Show 2019, which runs from September 12 to 15 at the Makuhari Messe in Chiba, Japan.
Here is an overview of Death Stranding, via PlayStation.com:
Tomorrow Is In Your Hands

After the collapse of civilization, Sam Bridges must journey across a ravaged landscape crawling with otherworldly threats to save mankind from the brink of extinction. From legendary game creator Hideo Kojima comes an all-new, genre-defying experience for the PlayStation 4 system.

Starring Norman Reedus, Mads Mikkelsen, Léa Seydoux, and Lindsay Wagner.

A Journey to Reconnect a Fractured Society

In the near future, mysterious explosions have rocked the planet, setting off a series of supernatural events known as the Death Stranding. With spectral creatures plaguing the landscape, and the planet on the verge of a mass extinction, it's up to Sam Bridges to journey across the ravaged wasteland and save mankind from impending annihilation.
Death Stranding is due out for PlayStation 4 on November 8.