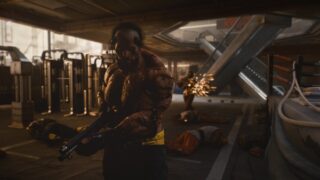 CD Projekt RED will host a Cyberpunk 2077 gameplay live stream on August 30 at 11:00 a.m. PT / 2:00 p.m. ET / 8:00 p.m. CEST where it will unveil a 15-minute edit of what it has been showing journalists at Gamescom 2019 this week, and then interview developers from the studio for additional insight. You will be able to watch it on Twitch and Mixer.
"Expect a lot of insight into the thought process behind creative decisions, information about Pacifica—one of the districts of Night City—and TONS of stuff on playstyles you'll be able to adopt when you launch Cyberpunk 2077 next year," CD Projekt RED said in a blog post.
CD Projekt RED also announced that while it initially planned to showcase gameplay at PAX West 2019, there has been a change of plans, which is why they are now streaming from Warsaw since they will not have an on-site development panel.
Cyberpunk 2077 is due out for PlayStation 4, Xbox One, and PC on April 16, 2020. A Stadia version is also planned for release.