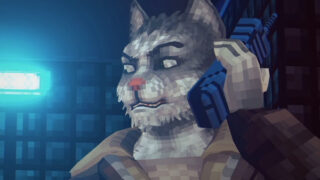 Publishers Ultimate Games and Art Game Studios will release Puzzling Dream-developed adventure game Unlucky Seven for PlayStation 4, Xbox One, and Switch in 2020, the companies announced. The PC version of the game is due out first on August 30.
"Our new game will take players to a bloody party, which they haven't experienced before," said Puzzling Dream main designer Huber Knochowski in a press release. "Waiting for them are many abstract elements, specific humor and a lot of emotions. Similarly, unconventional is the retro-style graphic design, combining 3D and pixel art. The soundtrack composed by Fox Amoore also plays an important role."
Puzzling Dream also noted that it takes on average about six hours to complete Unlucky Seven.
Here is an overview of the game, via its Steam page:
The game is played only using the keyboard. You don't need a mouse—you can throw it away!

In Unlucky Seven you'll have the ability to control different characters to complete the game. The game is played from a side view (observer) and has many interactive elements or items that are necessary to complete the mission.

The key elements during the game are numerous dialogues and answers that the player chooses. Remember to choose wisely!

Elen's friends always remember to celebrate special occasions. Instead of attending Alcoholics Anonymous meeting, they go to a birthday party in a luxury motel. Unfortunately, the owner just ate a delicious human liver sausage. And the appetite comes with eating. The party of their life becomes a party of their death.

Experience the thrill of adventure through the beautiful pixel-realistic world, where you are who you eat, and your choices decide the fate of your friends. Meet the hidden goals and desires of each character and jeer as their plans are ruined.

Unlucky Seven will take you on a spacewalk and tell you a story about love, hate, and craving for human flesh.
Watch a short trailer below.