Nintendo Switch Lite announced, launches September 20 for $199
A handheld mode-exclusive Switch.
Nintendo has announced Nintendo Switch Lite, a new version of Switch designed to play Switch games in handheld mode. It will launch worldwide on September 20 for $199.99 in yellow, gray, and turquoise color options. A carrying case and screen protector set will also be available.
"Adding Nintendo Switch Lite to the lineup gives gamers more color and price point options," said Nintendo of America president Doug Bowser in a press release. "Now consumers can choose the system that best suits how they like to play their favorite Nintendo Switch games."
Compared to the current Switch model, which includes detachable Joy-Cons, the Switch Lite has integrated controls and a smaller size. It has no kickstand and does not support video output to a TV. It can play all games in the Switch library that support handheld mode, though some games will have restrictions.
Nintendo will also release a Switch Lite Zacian and Zamazenta Edition alongside the release of Pokemon Sword and Pokemon Shield on November 8 for $199.99. The gray model features cyan and magenta buttons, and illustrations of the two legendary Pokemon from the game.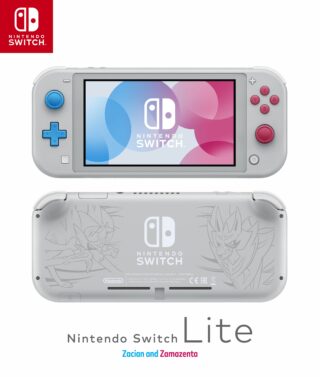 An official Switch system comparison website is now live.
Watch a trailer below.
https://www.youtube.com/watch?v=59yuBFRSZdg