MechWarrior 5: Mercenaries delayed to December 10, timed exclusive to Epic Games Store
Closed beta planned for November.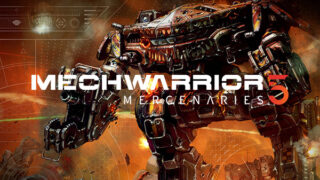 Piranha Games has delayed MechWarrior 5: Mercenaries from its previously planned September 10 release date to December 10, and announced that it will launch via the Epic Games Store as a year-long timed exclusive. A closed beta is also planned for November.
Users who have already pre-ordered the game from its official website may cancel their pre-order and receive a full refund by September 1. All users who cancel their pre-orders will be able to keep the MechWarrior Online content from the standard, Collector, and Ultimate editions, but will lose access to the closed beta in November and exclusive MechWarrior 5 downloadable content items.
"Our partnership with the Epic Games store allows Piranha the opportunity to make sure MechWarrior 5: Mercenaries meets our internal goal of creating the best MechWarrior game possible," said executive producer Russ Bullock in a press release. "Since we announced the development of the first single-player MechWarrior game in 17 years, we have stated that our goal was to deliver to fans a MechWarrior: Mercenaries experience with true freedom of choice and to be able to share that experience in a coop setting."
Bullock continued, "Understandably some fans will be disappointed that they have to wait a short while longer for MechWarrior 5, but it's important to Piranha Games that we absolutely get this right. We are happy to say that our new partnership with Epic Games store allows us the time and ability to accomplish our goals both in the games development and marketing efforts."
Here is a brief overview of the game, via the Epic Games Store:
About

The year is 3015. Humanity has colonized thousands of systems across a vast region of space splintered by centuries of conflict. The battlefields of the future are dominated by MechWarriors, elite pilots of hulking machines of war known as BattleMechs. Itis a lucrative time to be a mercenary.

Key Features

A World of Destruction – Level entire cities and decimate armies of enemy forces while piloting hundreds of unique BattleMech variants.
Seek The Truth – Follow a path of interstellar intrigue in a quest for glory and revenge as the leader of a mercenary company reborn in the flames of near destruction.
The Merc Life – Manage the intricacies of running an expanding mercenary company, from the maintenance and acquisition of BattleMechs to the hiring of fellow MechWarriors.
Fight Together – Fight alongside your friends with four-player player-versus-enemy co-op support.
For more information about the game and its Epic Games Store timed exclusivity, check out the F.A.Q. on its official website.