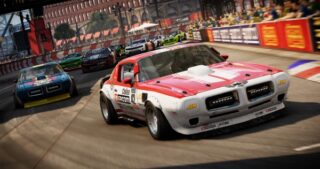 Codemasters has delayed GRID from its previously announced September 10 release date to October 11. The "Ultimate Edition" will include three days early access on October 8. The game will be available for PlayStation 4, Xbox One, and PC.
Here is an overview of the game, via Codemasters:
About

Capturing intense moment-to-moment racing action, GRID returns with an all-new experience where every race is the chance to choose your own path, create your own story and define your legacy in the motorsport world.

From the creators of the hugely successful DiRT and F1 series, Codemasters invites you to take your place in the GRID World Series and compete in intense wheel-towheel racing with the most iconic and desirable race cars–current and classic, from GT through Touring and Muscle to Stock and Super Modifieds–and in some of the world's most iconic locations.

GRID captures every moment of the race, from the adrenaline rush of lights-out to the elation at the chequered flag–and in-between, it's all action too. Incidents come one right after the other–tight overtakes, bumper-to bumper scrapes and competitive collisions–all heightened by rivalries, team-mates and a nemesis driver who will all either try to help or hinder your progress as you achieve your goal of becoming the GRID World Series champion.

Key Features

Over 70 of the Most Iconic Cars Ever Raced – Race the greats, both current and classic, across a huge array of vehicle classes. Modern greats such as the Porsche 911 RSR and Ferrari 488 GTE in the GT class to classics including the Ford GT40 and Pontiac Firebird Modified are all available to race to their limits.

Classes:

Touring Cars (TC-1, Super Tourers, TC-2, Classic Touring)
Stock Cars (Muscle, Pro Trucks, Oval Stocks)
Tuner Cars (Modified, Super Modified, World Time Attack)
GT Cars (Classic GT, GT Group 1, GT Group 2, Historic)
Formula J o Prototype
Group 7 Specials

12 Incredible Racing Locations – Compete in intense wheel-to-wheel races on iconic city streets, world-famous circuits, and beautiful point-topoints, featuring Havana, Shanghai, Brands Hatch, Indianapolis, and many more, with multiple routes at each location and varied time of day and weather conditions:

China – Zhejiang Circuit, Shanghai, Circuit, Street Track
Malaysia – Sepang International, Circuit, Circuit
Japan – Okutama, Circuit
United Kingdom – Brands Hatch, Silverstone Circuit, Circuit, Circuit
Spain – Barcelona, Street Track
United States – San Francisco, Indianapolis, Crescent Valley (fictional), Street Track, Circuit, Circuit
Cuba – Havana, Street Track
Australia – Sydney Motorsport Park, Circuit

Create Your Story, Define Your Legacy – Choose from six main career paths all leading to the GRID World Series, plus additional Showdown events.

Touring
Stock
Tuner
GT
Invitational
The Fernando Alonso Challenge

The Fernando Alonso Challenge – One of the most successful racing drivers of the modern era across F1, Endurance, and Stock racing, Fernando Alonso joins GRID as Race Consultant and his Renault R26 car features in-game. Complete his challenges and earn the right to race Alonso himself.
Six Exciting Race Types – Challenge yourself across various modes in-game, as well as an event / race creator:

Racing – Traditional race mode with grid starts and chequered flag finish.
Oval Racing – Rolling start, with set number of laps.
Time Trial – Single car on track / circuit against the clock.
Time Attack – Multiple cars on track / circuit, staggered start against the clock.
Skirmish – Players can test drive their cars, or have fun racing with friends whilst waiting for multiplayer sessions.
Hot Lap – Improve your grid position ahead of a race by posting the fastest lap time.

Racecraft – An innovative moment-to-moment scoring system that rewards players for technical, skillful, or brave racing. Players can earn points from teammates, rivals and nemesis drivers to improve their score both offline and online.
Impactful Damage Systems – Affecting both players and AI racers, GRID's damage builds on Codemasters' class-leading damage system to visually and mechanically change your race. Damage will affect visuals as well as handling, with potential for terminal damage.
Player Progression – Earn experience through racing and Racecraft to level up and receive rewards. Players get rewarded with Prestige, Player Cards, new team-mates and achievements throughout.
Get Competitive Online – Race in either Quick Match or use the online event creator and take your racing to the next level, either in a public game or with friends in private races.

Ultimate Edition

Main Game
Season 1 (Hypercar Track Day Pack)
Season 2 (Racing Hatch Track Day Pack)
Season 3 (GT Track Day Pack)
Porsche 911 RSR
Grid Edition Aston Martin Vantage GT4
Grid Edition Pontiac Firebird Modified
Grid Edition Chevrolet Corvette C7.R
Grid Edition Mitsubishi Lancer Evolution VI Time Attack
Grid Edition Renault R26
Player Cards
Player Banners
Unique Liveries
VIP Status
Watch a new trailer below.