Dragon Quest XI S details additional stories
Each character becomes the protagonist of their own story.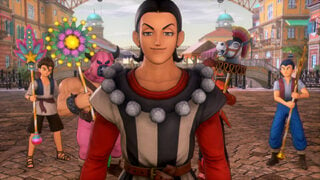 Square Enix has updated the Dragon Quest XI S: Echoes of an Elusive Age – Definitive Edition official website with information on the game's new stories where each party member becomes the protagonist of their own adventure.
Get the details below.
■ Previously Untold Truths Revealed: New Stories Added

Go on an adventure where each character becomes the protagonist of their own story. Talk to people, explore, find treasure, and fight against formidable foes in a unique new story experience.

■ The Unknown Stories of Your Party Come to Light

(Warning: The following content contains spoilers for the story of Dragon Quest XI: Echoes of an Elusive Age.)

From the perspective of each character, find out what happened during the point in the game when the party ends up separated and scattered across the world.

Control Each Character

Move, talk to people, and explore with each character. Enjoy your adventure to the fullest!

Lead New Parties Into Battle

While some stories have you go at it alone, other stories will have you lead new parties. Formidable foes await!

■ What stories will be told and what truths revealed? Here is a short introduction to the new stories' contents!

Erik and the Mysterious Partner

Erik is imprisoned in the monsters' hideout. He seems to be planning an escape with a Healslime named Homirin, but…?

—Erik's partner is… a Healslime!?

The Traveling Performer of Hope

Sylvando visits Gondolia, where he comes across people being harassed by thieves, so he takes action to turn things around.

—Who is Sylvando with…?

The Noble War Princess Jade

Jade, who visits Octagonia, is imprisoned in another world by Booga…

—How will the fight between Jade and Booga unfold!?

Rab and the Kingdom of Fortune

Rab, who charges at a bunny he runs into in a mysterious world, ends up at an unexpected and nostalgic place…

—Where is Rab rushing to…!?

A Hendrik and Jasper Story, Too!

A dark shadow appears in Heliodor Castle. Hendrick calls to the shadow and says, "…is that you, Jasper?"
Dragon Quest XI S: Echoes of an Elusive Age – Definitive Edition is due out for Switch worldwide on September 27.