Concrete Genie launches October 8 in the Americas, October 9 in Europe
Available in standard and Digital Deluxe editions.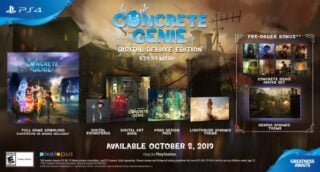 Concrete Genie will launch for PlayStation 4 on October 8 in the Americas and October 9 in Europe, publisher Sony Interactive Entertainment and developer Pixelopus announced.
The game will be available in a $29.99 USD / $39.99 CAD / €29.99 standard and $39.99 USD / $49.99 CAD / €39.99 MSRP Digital Deluxe edition. The latter includes a digital soundtrack, digital art book, "Pond Design" add-on pack, and PlayStation 4 "Lighthouse" dynamic theme.
Pre-orders include a PlayStation Network avatar set and PlayStation 4 "Denska" dynamic theme featuring a rooftop scene with special music composed by Sam Marshall.
In addition to two PlayStation VR-exclusive modes, Concrete Genie will also include a Photo Mode will at launch. It will feature a special, replay-style time lapse function that allows players to show how they put their artworks together.
Watch a new trailer below. View a new set of screenshots at the gallery.