Ys IX introduces new characters, unique attack skills
Introducing the hooded girl and a reliable cooperator.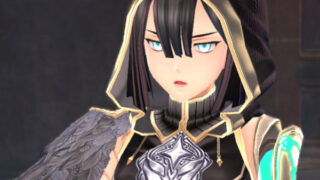 The latest issue of Weekly Famitsu introduces new characters and the unique attack skills of each playable character in Ys IX: Monstrum Nox.
Here are the notable tidbits:
Characters
Aprilis (voiced by Haruka Michii) – A mysterious hooded woman. The pilot for Adol and the Monstrum. She has a deep connection to Nox (night).
Parks (voiced by Kenyu Horiuchi) – A man imprisoned next to Adol. While he is a reliable cooperator, he has not shown his true nature.
Other Characters
Carla – A merchant.
Kilysha – Carla's younger sister. Someone steals her sales. Unexpected developments await.
Riche – The father who taught Carla and Kilysha how to be merchants. His methods are tough, however.
Chante – This game's drag queen character. He understands the circumstances surrounding the Empire and church very well. As the bar manager, he will help Adol in various ways. "Dogi-chan's muscles… they're so beautiful!"
Yufa – The bar waitress. She is a quirky and soothing character who is considerably upfront. The mole beneath her eye is her charm point.
Unique Attack Skills of Each Playable Character
Hawk: "Carnage Lancer" – A long thrust with laser beam-like reach.
White Cat: "Wild Scratch" – A two-hit attack that starts with a dive at the enemy.
Doll: "Gensou Ranbu" – A three-hit attack: a thrust, spinning slash, and finally an explosion.
Renegade: "Dark Inferno" – Generates a sphere before you that sucks up and damages the enemy. You can also use other skills while it is active.
Raging Bull: "Stampede" – A charge attack accompanied by a shockwave.
As long as the required SP is available, all attack techniques can be comboed with skills.
Ys IX: Monstrum Nox is due out for PlayStation 4 on September 26 in Japan.
Thanks, Ryokutya2089, Games Talk, and @NihonFalcom.