Turok and Turok 2: Seeds of Evil Switch limited run physical edition announced
Due out in Q3 2019.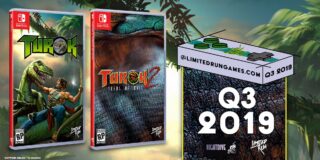 Limited Run Games will release limited run physical editions of Nightdive Studios' Turok and Turok 2: Seeds of Evil for Switch via the Limited Run Games online store in Q3 2019, the company announced during its E3 2019 press conference.
Turok is available now digitally for Switch, Xbox One, and PC, and Turok 2: Seeds of Evil is available for Xbox One and PC. Here is an overview of each game:
Turok

About

A world where time has no meaning and evil knows no bounds. Torn from a world long gone, the time traveling warrior Turok has found himself thrust into a savage land torn by conflict.

Turok is back and no dinosaur is safe! When it was first released in 1997, Turok introduced gamers to a world teeming with cunning enemies, traps, puzzles and deadly weapons all within a vast 3D environment ready to explore. Now the classic game has been restored and enhanced with a new visual engine and exciting new features to sink your teeth into!

The Lost Land…

A world where time has no meaning – and evil knows no bounds. Torn from a world long gone, the time traveling warrior Turok has found himself thrust into a savage land torn by conflict. An evil overlord known as 'The Campaigner' seeks to shred the fabric of time and rule the universe using an ancient artifact known as 'The Chronoscepter'. The Chronoscepter was shattered thousands of years ago in an effort to keep it from falling into evil hands. The Campaigner has constructed a massive focusing array which he plans to use to magnify and pervert the power of the Chronoscepter in order to shatter the barriers between the ages and rule the universe. Turok has vowed to find the eight pieces of the Chronoscepter spread throughout the Lost Land and put an end to The Campaigner's evil plot…

To learn more you must enter the world of Turok.

Key Features

Completely 3D Virtual World – Run, jump, climb in any direction in a fully 3D world, with the ability to independently look and aim your weapons up, down, or sideways.
Intelligent Enemies Programmed for Ferocity – Variable aggression profiles make each enemy behave uniquely.
14 Monstrous High-tech Weapons – From the Grenade Launcher, Plasma Pulse Rifle and Alien Weapon, to the Quad Rocket Launcher and, the mother of all guns, the Atomic Fusion Cannon!
Advanced Interactive Backgrounds with Particle Technology – Cobwebs sway. Bubbles form rings on the water's surface. Bullets ricochet. Trees explode into flames and crash to the ground. Waterfalls boil with foam.
Bionically Engineered Dinosaurs – Razor-toothed Raptors. Artillery-packing Triceratops. Alien Infantry and a Laser-Guided T-Rex. Following your every move with head-tracking technology.

Turok 2: Seeds of Evil

About

Turok 2: Seeds of Evil returns to the PC! The sequel to the hit game Turok is now available, featuring a host of enemies, weapons, missions, locations and a new multiplayer mode. Remastered for today's computers using a new engine with improved graphics, Turok 2 will transport players into sprawling environments with vicious enemies lurking behind every corner.

Key Features

The Dinosaur Hunter Returns

Fight your way through 35 different types of enemies with bouncing bellies, blinking eyes, stretching tentacles and snapping jaws. From Prehistoric Raptors, to evolved Flesh Eaters, to your final battle with the Mother of all beasts— you'll want to defeat all of them!
Enemies are intelligent! They're smart enough to attack in groups, to flee when they are outgunned, and to take cover during a firefight.
Enemies flinch and spasm differently depending on which body part you hit.

Remastered Locations

Conquer six engrossing Quest Levels including the Port of Adia, the Death Marshes and the Lair of the Blind Ones.

Over 20 Weapons

Unload multiple ricocheting shotgun shells with the Shredder.
Send brains flying with the skull-drilling Cerebral Bore, a fan favorite.
Stomp enemies flat while riding an artillery-mounted Triceratops!

New Multiplayer

The new Multiplayer mode lets you battle with your friends. Using the best levels, weapons, and visuals from both the PC and Nintendo 64 versions, players will encounter a fun and visceral multiplayer experience.
Players can also choose between a few skins for their character in combat. Network multiplayer is available through Steam, GOG Galaxy, LAN and direct IP with cross play capabilities.
Split-screen mode is also available in network multiplayer. Lastly, a new multiplayer game mode called "Last Turok Standing" has been added.

New Game Engine

Ported to the Kex Engine 3.4.
Full 64-bit compatibility.
Brand new UI system.

New Graphics System

Modernized deferred renderer.
Shadow maps and compiled light maps.
Screen-space reflections on textures and materials.
Dynamic and fixed-resolution sub/super-sampling.
New decals and effects.

Enhanced Gameplay

Improved character speed and manoeuvrability, including the ability to grapple ledges.
Updated maps.
Improved AI.
"Quick warp" feature allows instant travel to any previously visited portal.
Save and load anywhere.