Luigi's Mansion 3 Nintendo Treehouse: Live E3 2019 gameplay, part two
Eight-player cooperative gameplay.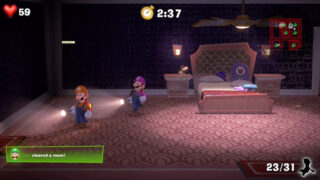 Nintendo showcased another 17 minutes of Luigi's Mansion 3 gameplay introducing the game's eight-player cooperative "ScareScraper" mode during the Nintendo Treehouse: Live at E3 2019 Day 2 live stream.
In ScareScraper mode, up to eight players can work together to clear objectives on a series of floors in the Last Resort hotel within a set time limit.
If you missed yesterday's gameplay, which introduces the "Paranormal Productions" stage and a monstrous boss battle, watch it here.
Luigi's Mansion 3 is due out for Switch in 2019.
Watch the footage below.