Gear.Club Unlimited 2 version 1.4 update now available
Three new downloadable contents announced.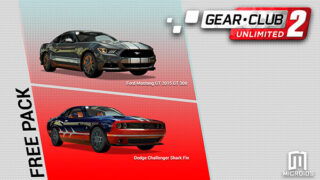 Publisher Microids and developer Eden Games have released the version 1.4 update for Gear.Club Unlimited 2, which adds a new camera view, new radio stations, new horn feature, and other game changes.
Additionally, the publisher announced three new downloadable contents due out on June 20.
Get the details below.
Version 1.4 Update Features

New camera view: On top of the three current camera angles available in the game, discover the new breathtaking "bumper" view, specially added in this update for a more immersive driving experience!
New radio stations: Many players requested more variety in the soundtrack and we heard them! It will now be possible to listen to the radio and even to change it while racing. Two radios are also added to the game; Rock and Electro, alongside a third one called Shuffle, which is a mix of both!
New horn feature: 16 horns are now available. You will have the choice between the Cucaracha, the Train, the Cavalry and many more!
Game changes:

Race-eligible cars are now displayed in the selection screen before starting a race. Car models available to purchase and improve are also highlighted in this menu.
The AI trajectory has been revamped, offering a better adaptation to player's behavior.
It is now possible to change your driving style in the "Career" mode (Arcade or Simulation). Swapping between those two will also be possible during the race.

As a reminder, Synchronous Online Multiplayer is available since the 1.3 update and offers random matchmaking allowing drivers to compete against up to eight players (this option requires a subscription to the Nintendo Switch Online service).

New Downloadable Content

In addition to this free update, three new downloadable contents will also be available on June 20. Ever dreamed of driving a police car? It's now possible! Seat behind the wheel of the Ford Mustang Police and blast the sirens as you reach the pole position!

Discover more details on the new downloadable contents below:

Free Pack (these two cars will be added to the garage for free)

Dodge Challenger Shark Fin
Ford Mustang GT 2015 GT 300

Arrows Pack (paid DLC)

Ford Mustang Police
Alfa Romeo 8C Competizione Ahoy
Jaguar F-Type R Elite GTS
Stickers Board "Arrows"

Pack Checker (paid DLC)

BMW M4 Coupe Wave
Dodge Challenger Menthol Green
Lotus Exige S English Racing
Stickers Board "Checker"
Gear.Club Unlimited 2 is available now for Switch.
View screenshots of the downloadable content at the gallery.